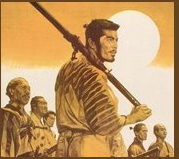 This site is attempting to list, review and create some discussion about the best movies ever made about samurais, the warrior class that served, and helped shape the philosophies and culture of Japan for almost 1000 years.

&nbsp&nbsp&nbsp&nbsp Although five of my top ten samurai movies were directed by the great Akira Kurosawa, there are also movies by the most of the greats of Japanese cinema including, Masaki Kobayashi, Kenji Mizoguchi, Hiroshi Inagaki, and Kon Ichikawa.

&nbsp&nbsp&nbsp&nbsp The samurai movies are particularly interesting because they show the shifting values of the Japanese culture between the pre-World War 2 years and the post-World War 2 years. Before the war the focus of the movies was on loyalty to one's lord and one's clan. The family was not a priority and was only important in helping the samurai do his duty.

&nbsp&nbsp&nbsp&nbsp In the post-war years we start to see a re-interpretation of the samurai story. Now the samurai world view could be criticized. Movies like Samurai Rebellion and Harikiri could point out just unfair the system could be. Those in positions of authority could be portrayed as being villains, forcing their capricious will on good and loyal samurais and their families.

&nbsp&nbsp&nbsp&nbsp We also see the samurai used in a reporting role. They see what is going on in society and they will then give their views on it. The samurai, particularly in the post-war movies, begin to take the side of the peasants against the establishment. This is also done by ronin, who have lost their place in society, but we also see samurais like Kikyo in Three Outlaw Samurai, who are on the inside, switch over to the peasant side because it is the right thing to do.

&nbsp&nbsp&nbsp&nbsp The samurai movies are really interesting because they serve as metaphors for Japanese society in the post-samurai world. Should one's family or one's corporation be most important? What is the role of the individual in society? Are those in positions of authority always correct? What is more important: what is best for the country or the rights of the individual?

&nbsp&nbsp&nbsp&nbsp I've also added on the Zatoichi movies. The blind masseur and master swordsman wasn't a samurai, but most of his fighting involved samurai and ronin, so I am adding him in.
---
Links
Custom Search