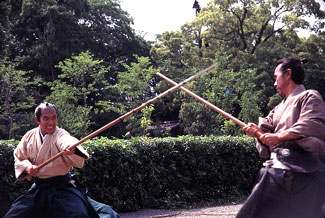 &nbsp&nbsp This is a movie that won the Japanese Academy Awards for Best Picture, Best Actor, Best Supporting Actress, Best Music, Best Screenplay and Best Cinematography.
&nbsp&nbsp The movie is about a ronin named Ihei Misawa and his wife Tayo, who are stranded by the rains at an inn. The people at the inn are generally unhappy, so Ihei buys some supplies and has a feast for them.
&nbsp&nbsp While out practicing with his sword he stops a duel. The local lord Shigeaki thanks him and invites him to castle. As Lord Shigeaki gets to know him he decides to give him a job as Master of Arms. His advisors insist that he must take part in an exhibition to show his skills first. At the exhibiition Ihei shows great skills, but the local dojo owners don't show up.
&nbsp&nbsp We later learn that he has already fought these dojo owners for money. That is how he got the money to put on the feast.
&nbsp&nbsp On his way home Ihei is confronted by the dojo masters and their men, and leaves them all wounded and bloody on the ground.
&nbsp&nbspWhen Lord Shigeaki learns that Ihei has fought for money he withdraws his job offer. Ihei's wife is philosophical. She knew her husband only did it to relieve the pain of the poor. She now truly understands him.
&nbsp&nbspWhen Lord Shigeaki hears of the wife's reaction he sets out to find Ihei. It appears he has changed his mind about him again.
&nbsp&nbspThe is not your normal samurai movie. It was beautifully filmed and had a beautiful message. It is not what you do, but why you do it. A really good movie based on a story written by Akira Kurosawa.