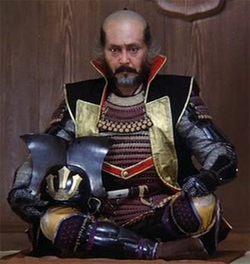 &nbsp&nbsp Kagemusha, a film by Akira Kurosawa, is the story of a thief, Kagemusha (impersonator), who is asked to impersonate the leader of a clan who has been killed in battle, so that the enemy would not know of their loss. For three years Kagemusha continues to portray Shingen, with only his closest advisors knowing the truth.
&nbsp&nbsp He fools his concubine and his grandchildren and begins to grow in to his role. He is inspirational to his troops and helps the clan win some battles.
&nbsp&nbsp When he is finally discovered as a fraud by the clan he is forced out of the city gates in disgrace.
&nbsp&nbsp This was a beautifully filmed movie in which Kurosawa again looked at the differences between the classes. Was the Kagemusha a better ruler and a better person than Shingen, even though he was not of noble blood? A really good samurai movie.