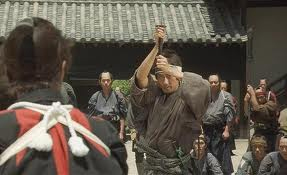 &nbsp&nbsp Set in the years from 1863 to 1899, the movie begins as a flashback when man sees a picture in the doctor's office of "his greatest enemy" who was with him in the ronin samurai group 'The Wolves of Mibu' back in 1863 when the Shogun's power was falling. The newly chosen group, the Sinsengumi, was formed that year. The group functioned as a police like group keeping the peace.
&nbsp&nbsp The movie opens with a duel and the different sword styles are put on display. Kanichiro, who looks out of place, more than holds his own with a sword and quickly becomes an instructor. Kanichiro acts humble, and comes off as something of a hick, but put a sword in his hand and he is anyone's equal. Kanichiro was a samurai and family man who could no longer support his wife and children on the low pay he received from his small town clan. He left his happy family and headed to the city to get a higher paying position. Kanichiro joined the Shinsengumi where he is soon viewed as a samurai who will do anything for money, but he just wants the money to send to his family.
&nbsp&nbsp Kanichiro is a strange man, He acts very strangely when it comes to money and he comes off as a clown. Does he do this on purpose?
&nbsp&nbspAs the Shogun and Emperor split, so does the Sinsengumi. The members are forced to choose sides. Kanichiro having already left his clan, feels he must now stay loyal to the Shogun. When the Shogun's forces are defeated he heads back to his clan to heal and they reluctantly take him in.
&nbsp&nbsp An interesting movie chronicling the period when the power of the Emperor rose and the power of the Shogun fell. This movie is a great look at the period through the eyes of one man. The movie is beautifully filmed in the tradition of Ran, Throne of Blood, and Gates of Hell. A little long, a little talky, and a little dragged out, but still, overall, a very good movie.