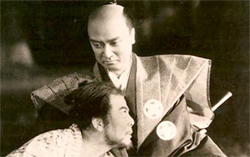 &nbsp&nbsp The Loyal 47 Ronin can be considered a propaganda war film for the Japanese right before WWII. It stresses duty and loyalty over family. The samurai actually laugh and make fun of a person who puts his family before his samurai code. There is also a discussion about how the samurai code and loyalty is more important than the teaching of sages. "We are not Chinese!" they said. This movie is particularly interesting in view of the post WWII movies where some samurais are projected as seeing family and individual rights as more important than the samurai code and loyalty.
&nbsp&nbsp The movie addresses the issue of honor and loyalty being more important than anything. Life, happiness and family all come second to loyalty and honor in the eyes of the loyal samurai. After the war we will begin to see cracks in this samurai world view, and the importance of family will begin to rival loyalty to the clan as the most important aspect in a samurai's life in the films of the 1950's.
&nbsp&nbsp This is an excellent version of the much filmed story. It is particularly interesting to watch it as a film that the Japanese audience was watching in 1941.