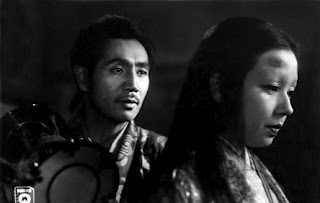 &nbsp&nbsp In 16th century Japan a potter and a farmer journey to the village seeking to seek their fortune. Genjuro brings his pot to market and is accompanied by Tobei, who has dreams of becoming a samurai. Genjuro does very well, because it is a time of war, and his pots are needed. Tobei has no luck trying to join up with samurais.
&nbsp&nbsp The men return home and Genjuro works really hard to make even more pots. When the village is attacked Genjuro is reluctant to leave his pots, but eventually they all escape in to the woods.
&nbsp&nbsp After the attack, Genjuro and Tobei, against the wishes of their wives, head off to sell the new batch of pottery. They arrive at a market and the pottery sells very well. With his share Tōbei buys samurai armor and tries to join the samurai class. meanwhile, back at the farm, Tobei's wife, Ohama is raped by a group of soldiers.
&nbsp&nbsp Genjuro is seduced by a noblewoman and ends up marrying her. He later ends up finding out that she is an evil spirit.
&nbsp&nbsp Tobei obtains the head of the enemy comander, and is rewarded by his commander with new armor and some vassals. He then finds his wife working in a brothel. When Genjuro gets home he finds out that his wife has died.
&nbsp&nbsp A great story of greed and tragedy from the great Kenji Mizoguchi.