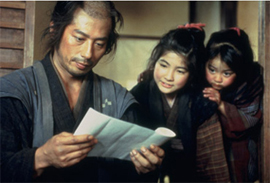 &nbsp&nbsp The Twilight Samurai is set in 1868 Japan. The samurai era is coming to a close. This movie is about Seibei, who keeps track of supplies for his clan. Seibei's wife has died and he supports his mother and his two young daughters.
&nbsp&nbsp Seibei is barely making end meet and grows crops on the side. When Seibei's boss calls him to task for his tattered look and smell, his uncle advises to find a new wife. A childhood friend, Tomoe, who has just divorced her husband starts hanging around the house.
&nbsp&nbsp The clan convinces Seibei who has a great reputation as a swordsman and who desperately needs the money, to kill a clan member, Yogo, who has become embarrassing to them. Yogo has already killed one samurai sent for him. When Seibei gets to Yogo's house they talk about how they have fallen to the situation that they now find themselves. After a fight that would almost be comic if it wasn't so sad, Seibei kills Yogo and limps back to his house to the waiting Tomoe.
&nbsp&nbsp In the epilogue we learn that Seibei was to die three years later in the Boshin War.
&nbsp&nbsp This was a great movie that looked at an era that had been built about traditions and customs that were now coming to a close. The glorious era of the samurai was ending and this movie takes a sympathetic look at someone who was caught in a world between. Like the Seven Samurais, there didn't seem to be a place for Seibei anymore.