Jack &nbsp&nbspA
IMDB &nbsp&nbsp 7.5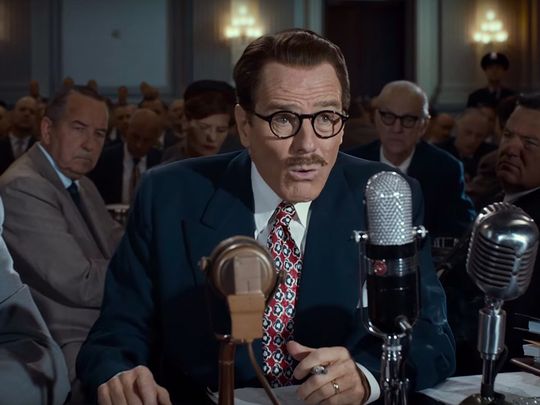 &nbsp&nbsp The movie tells the story of screenwriter Dalton Trumbo who joined the Communist party in 1943. He had written quite a few screenplays including Kitty Foyle, Thirty Second Over Tokyo, Tender Comrades and A Guy Named Joe. He was called before the House Committee in 1947 and refused to testify. He was then blacklisted.
Trumbo continued to work and to also fight against the HUAC. The movie shows Hedda hopper as one of the prime movers in getting the studios involved in the blacklisting. It suggested that they were vulnerable and went along with it because many of them were Jewish and didn't want to receive bad publicity.
Trumbo continued working using a front and his work received two Oscars for The Brave One and Roman Holiday. Trumo is credited with ending the blacklist when he got his name listed on Spartacus and Exodus.
One intersting relationship pointed out in the movie is the one between Trumbo and Edward G. Robinson, his one time close friend, who ended up testifying before the House and naming names.
A very good movie, that probably could have been more effective if it was a little darker in tone.