Jack &nbsp&nbspA-
Roger Ebert &nbsp&nbspGreat Movie
IMDB &nbsp&nbsp 8.2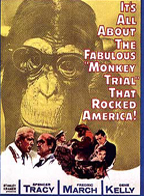 &nbsp&nbsp The authors chose not to do a historic rendition of the Scopes Trial of 1925 but instead chose to use the story line as a backdrop to their attack on the anti-intellectualism of the McCarthy era. In the same way that Arthur Miller attacked McCarthyism in The Crucible these writers attacked it with Inherit the Wind.

&nbsp&nbsp In the movie, the Spencer Tracy character, who is based on Clarence Darrow, says "I came here to defend his right to be different and that's the point." He also says "As long as the prerequisite for that shining paradise is bigotry, ignorance and hate I say to hell with it". Spencer Tracy's character, Henry Drummond, could be talking and the back and white world of Pleasantville. It is not worth having a homogenous, happy community if it is rooted in ignorance.

&nbsp&nbsp Henry Drummond also said, "But all you have to do is knock on any door and say if you'll let me in I'll live the way you want me to live and I'll think the way you want me to think and all the blinds will go up and all the doors will open and you will never be lonely again." Henry doesn't think that it is worth it to conform to a society just to fit in. A person must be true to himself.

&nbsp&nbsp He also said, "And soon you may ban books and newspapers". Because fanaticism and ignorance is forever busy and needs feeding".

&nbsp&nbsp In a McCarthy like moment in the movie, the William Jennings Bryan character, played by Fredric March calls his own daughter to the stand and has her testify against in boyfriend against her will.

&nbsp&nbsp Inherit the Wind is an excellent movie. It is a powerful attack on anti-intellectualism and anti-individualism.