High Noon (1952)


Movie Grade A+

McCarthyism Connection Grade A+

McCarthyism Connection
High Noon has been described as an allegory for the HUAC investigations where Marshal Will Kane represents individuals who were willing to confront the political investigations of HUAC, while the townspeople who deserted him may represent people who were afraid of being blacklisted.

Genre
Western

Links


Jack &nbsp&nbspA+
Roger Ebert &nbsp&nbsp--
IMDB &nbsp&nbsp 8.3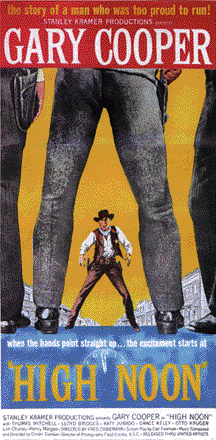 &nbsp&nbspHigh Noon is a great movie. It is a classic Western with the bad guys coming for the show down with the sheriff. It has a look and feel of a real Old West town.

&nbsp&nbsp High Noon has a really good story but it is much more interesting when we look at it through the McCarthyism lens. The writer, Carl Foreman, had just testified before the HUAC. When he got back he put the finishing touches on the movie (which was adapted from the short story Tin Star).

&nbsp&nbsp Carl Foreman has said, "They were either capitulating to these gangsters - political gangsters from out of town - or they were being executed by them here. And I could see that my time was coming sooner or later - it was just being delayed by a couple years or so - and I wanted to write about that. I wanted to write about the death of Hollywood. So all that shaped the writing of High Noon. That was very conscious, see."

&nbsp&nbspHigh Noon can stand on its own and still be considered a great movie, but when you add the McCarthyism angle, it becomes very special.