Jack &nbsp&nbspB+
Roger Ebert &nbsp&nbsp--
IMDB &nbsp&nbsp 7.7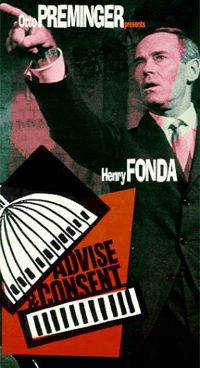 &nbsp&nbsp This movie has some great courtroom scenes where the new nominee for Secretary of State, played by Henry Fonda, is investigated by a Committee, some of whom think he may have leftist leanings.

&nbsp&nbsp He was asked questions such as, "We want to know what you would give away to the Communists." In addition to a sympathetic look at the Communist skeletons in some of the characters closets there is also a less flattering look at the gay past of one of the characters.

&nbsp&nbsp The movie, made in 1962, also had some Cold War rhetoric in it, debating the pros and cons of brinkmanship diplomacy with the Communists.

&nbsp&nbsp The movie's view on McCarthyism can probably be summed up by a question the President asks a friend, "Do you think he should be ruined just because he flirted with Communism long ago?"