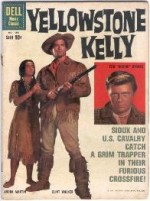 &nbsp&nbsp Based on a true character and set in 1876 in Sioux territory. Kelly, played by Clint Walker, brings along a helper, Anse Harper, as he goes back in to trap furs. Kelly and Harper are jumped by Sioux. What is really great about this scene, is that while Kelly in shooting away with his repeating rifle, a Sioux named Sayapi comes up and knocks both men out with his stick, counting coup.
&nbsp&nbsp The captives are then taken back to the Sioux camp where they meet Chief Gall. Kelly didn't remember at first, but he had saved Gall's life many years ago, when he removed a bullet from him. Gall now wants Kelly to save a wounded Arapaho woman captive, Wahleeah, by removing a bullet from her. Kelly removes the bullet and then hopes she will live. When she starts to recover Kelly and Harper head out.
&nbsp&nbsp A couple of days later, a very weak Wahleeah, rides up to Kelly's house and then falls off. The Sioux are right behind her. Sayapi wants his captive, but Gall agrees with Kelly that she should stay until she heals. Wahleeah soon has not only Gall and Sayapi desiring her, but Kelly and Harper as well.
&nbsp&nbsp The cavalry comes on the scene, intending to drive the Sioux back to the Dakotas. Kelly warns them that if they cross the Snake river they will be in trouble, but the major won't listen. Meanwhile Sayapi returns and kills Harper and takes Wahleeah.
&nbsp&nbsp Kelly goes after her and enters Sayapi's camp at night. He takes out six of the Sioux, and then there is only Sayapi left. In the final shootout Kelly guns down Sayapi. Kelly and Wahleeah then meet up with what is left of the cavalry, who have been ambushed. And then Gall and his warriors appear. Gall wants Wahleeah, but Kelly won't give her up. To stop the slaughter Wahleeah rides out to meet Gall, but is shot off her horse. Gall tells Kelly that he can have her, since she had ridden out to save him. Kelly convinces Gall to leave, without killing the soldiers. Kelly and Wahleeah ride off together.
&nbsp&nbsp The film has many of the flaws of the genre : the good Indian and the bad Indian, the beautiful Indian princess (played by a white woman with blue eyes) who falls for the white hero and it has the lead Indian characters played by white actors. But, the movie had good production values and is beautifully filmed in Technicolor, and Clint Walker looks really natural playing a trapper. It also has the really good coup scene, which showed how the Indians valued bravery over killing. It also shows the Indians as victims of the treaty breaking whites.
&nbsp&nbsp Overall, a pretty decent light Western, that seems more interested in being a love story than in being a Western, but it still pretty good.