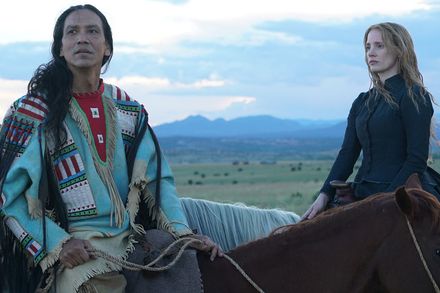 &nbsp&nbsp The movie is based on the somewhat true story of Catherine Weldon (played by Jessica Chastain) who traveled across the United States to paint Sitting Bull.

&nbsp&nbsp In real life Catherine was unhappily married and ran away with a lover with whom she had a child. When he left her to return to his wife, a now divorced Catherine got involved with the National Indian Defense Association and went out West, perhaps to escape her past. She met Sitting Bull and became his friend, contributing money to the Lakota people. Catherine also began fighting with the Dakota Indian agent and was vilified for her efforts.

&nbsp&nbsp In 1890 Catherine tried to convince Sitting Bull that he should oppose the Ghost Dance movement that was sweeping through the reservations. Sitting Bull turned against her and she soon left the reservation with her son.

&nbsp&nbsp In the film the major motivation of Catherine (who the movie portrayed for some reason as a widower) was to paint Sitting Bull's portrait. In the film Catherine did paint his portrait, but it seems to be a minor footnote in that we have many photos of him (and her real life photos look nothing like the beautiful one shown in the movie).


&nbsp&nbsp The movie is interesting in showing the older Sitting Bull trying to be relevant in a world turned upside down. He was eventually assassinated and the Wounded Knee Massacre quickly followed.

&nbsp&nbsp I thought the movie had an interesting portrayal of a dignified Sitting Bull (played by Michael Greyeyes). What I didn't like is that the movie felt the need to portray a small part of a major American historical figure inside the portrayal of a minor white American character portrayed by a popular movie star (Jessica Chastain).

&nbsp&nbsp The movie is another reminder that Hollywood doesn't feel movies can make it if they don't have a popular white actor headlining. I think Black Panther, and Crazy Rich Asians probably proved them wrong. Just make a good movie and it will do well.

&nbsp&nbsp Sitting Bull needs a movie about his life. He had an incredible life, and it is one of the essential American stories. Woman Walks Ahead was perhaps well meaning, but should have been so much better.