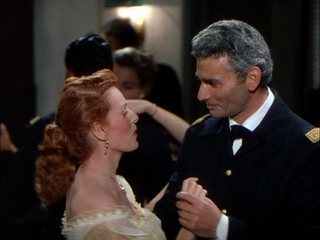 &nbsp&nbsp Major Brady (Jeff Chandler) and two sergeants arrives in Texas and the Colonel at the post is afraid the much decorated Brady is there to take his job, but Brady just hopes to recruit peaceful Seminoles who have been relocated to Texas from Florida, to help the army fight the war like Kiowas.
&nbsp&nbsp When Elaine Corwin (Maureen O'Hara) sees Brady, she looks at him the way Mary Kate Danaher looked at Sean Thornton in the Quiet Man. The romance is on; meanwhile, the Kiowas are running wild in the country side.
&nbsp&nbsp Brady goes to recruit the Seminoles. Why should we do this for you, the chief asks. Good questiom. Brady tells him that for six months service the government will give them land of their own; good land with grass and cattle. Chief Maygro doesn't want to do it but his people want to fight. The Kiowa have been raiding their lands. But Maygro says their fighting days are over. They are a peaceful people now. Brady says: "You're less than women. I'm ashamed that I talked to you like equals, as men of courage." Just then the Kiowa attack and Brady shoots his Henry repeating rifle and shows the Seminoles their power. Maygro is now in, and so is his beautiful daughter, Avis, who tags along with Maygro and his men.
&nbsp&nbsp Brady then starts to train the Seminole with their Henry rifles and courts Elaine and the Seminoles are beginning to look better as fighters, even though the Colonel is laughing and saying things like "A toast to the memory of Brady's Bunch."
&nbsp&nbsp The Seminoles and Brady win the first battle, but by now I am cheering for the Kiowa. They're not going to win, though. They're just going to be clay pigeons for the Henry rifles. The story takes a weird turn when we find out that Elaine's Yankee hating ex-Confederate husband, Captain Corwin, who they thought was dead, is leading the Kiowas.
&nbsp&nbsp When the Kiowas attack the effort, led by Captain Corwin, Brady's bunch of Seminoles joins with the cavalry to save the day. The Kiowas just keep running right in to repeating rifles. Brady and Corwin fight and then the leader of the Kiowas, Satanta (Jay Silverheels) shoots Corwin for leading the Kiowas into this disaster.
&nbsp&nbsp This movie was really not too good. The Kiowas, who were just fighting for their land, were portrayed as savages. The Seminoles, who fought with the "good guys", were were really just patsies who fought on the side of their oppressors.