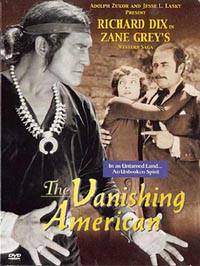 &nbsp&nbsp Before John Ford got the Monument Valley, this film was made there in 1925, just one year after Native Americans became full citizens. The longish prologue tells the story of the early settlement of an area out West by the Basket makers and then The Cave Dwellers. The Conquistadors, on their "fire breathing" animals came next. That began the conquest of the Indian that lasted 300 years.
&nbsp&nbsp Next came in Kit Carson, who was trusted by the Indians. He promised that they would be able to live in their lands, but after he was gone came the reservations and the Indian agents.
&nbsp&nbsp Next, in the early 20th Century, a tribe of Navajo living on a reservation overseen by the Indian-hating agent, Booker. The agent uses the Indians, stealing their horses when he can. Nophaie (Richard Dix), a tribal leader, complains but is unable to get any results.
&nbsp&nbsp Marion Warner, a teacher on the reservation, is teaching Nophaie how to read. When the evil agent tries to take advantage of her, Nophaie beats him up but then gets shot at. Booker then tells the people coming to investigate that Marion was fooling around with the Indian, trying to ruin her reputation.
&nbsp&nbsp When World War breaks out, Nophaie, gets horses for the army and then joins himself because Marion tells him it is the right thing to do. Nophaie and some men from his tribe fought heroically for US.
&nbsp&nbsp After the war Nophaie comes back to an even more depressing reservation. When the tribe decides to attack the evil agent and the whites, Nophaie warns Marion and the others. When the Navajo attack, Nophaie is shot down by accident.
&nbsp&nbsp Not a bad movie. Very sympathetic to the Indian plight for its time. It was a little hard watching Richard Dix with his painted red face, though.