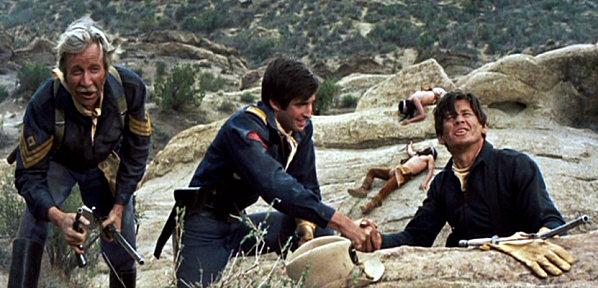 &nbsp&nbsp This movie had a good caste with Richard Boone, George Hamilton, Charles Bronson, Slim Pickens and Richard Chamberlain.
The first scene shows Indians breaking into a cabin and "ravishing" a woman and her daughter while the youngest girl is left in a trance-like state. When Captain Maddocks (Boone) gets a report from the sergeant he asks what kind of Indians committed the atrocity. The sergeant suggest they were Comanches. The captain says "Mr. Greesham, Comanches rape their own, that's their idea of courtship. But they don't generally fancy white women."
On payday they put ropes up to keep the men away from the squaws in the Indian Agency in the fort, a squaw line. The sergeant said: "Because right around the third bottle, those squaws get to looking mighty pretty. That is if you're a drinkin man."
When Lt. Gresham's fiancee arrives at the post, we find out she is the former lover of Lt. McQuade (Hamilton). The men get their pay, and then they buy their bottles of liquor.
Captain Maddocks and Lt. McQuade head out on a patrol and find the last patrol out that has been massacred. The men continue to discuss whether it is Apache or Comanche, and the Captain knows, but he won't tell. Then the Indians attack McQuade and his men but Maddocks arrives with the main force and and drives them off. Maddocks tell McQuade that it was Apaches all along who were hoping the cavalry would go running off in to Comanche territory to find the raiders.
James Warner Bellah wrote the original story on which the film was based; many of his other stories were also adapted into western movies, notably and repeatedly by John Ford, including Fort Apache, She Wore a Yellow Ribbon, The Man Who Shot Liberty Valance and Rio Grande. The movie even uses the line "Never apologize. It's a sign of weakness.", which was something Captain Nathan Brittles said quite often in She Wore a Yellow Ribbon. But the director here was no John Ford, and the movie doesn't have a sharp focus. It seems to throw in a bunch of sub-plots hoping one of them will work.
It's interesting that one of the main discussions in the film is whether the Indians are Apache or Comanche, because this is a film that just treats the Indians as the other, and as savage others. The movie makes no attempt to get a Native perspective, which is a little unexpected for a movie made this late (1961). The movie had a good caster