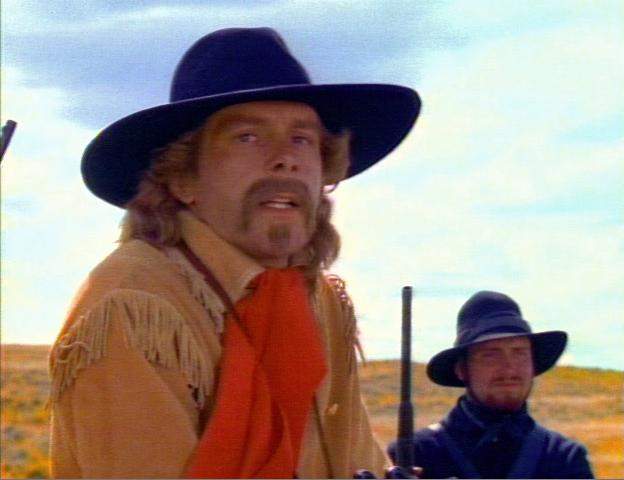 Kate Bighead: "We Cheyenne called him, Hi-Es-Tsie, Long Hair. The Arikara called him, Creeping Panther, who comes in the night. The Crow called him, Son of the Morning Star, who attacks at dawn. I remember him. I saw him die."



&nbsp&nbsp A TV movie that was based on a book, this is a movie about George Armstrong Custer. What makes it different is that it also tells the movie from the Indian point of view. The movie opens up with cavalry troops coming upon the scene of where a battle had taken place. It is the Battle of Little Big Horn. The movie then flashes back to ten years earlier.

The story is told from the point of view of Custer's wife Elizabeth (Rosanna Arquette) and from the point of view of a Cheyenne Indian whose name on the agency role was Kate Bighead. The movie tells the parallel lives of Custer and Crazy Horse. The movie shows Crazy Horse defending his land.
Kate Bighead: "They call it the Fetterman massacre, after the officer who swore that with 80 men, he could wipe out the entire Sioux nation. It was no massacre. Them soldiers were stupid, and they rode to their deaths."

The "massacre" prompted a response from Washington that included the boy General hero from the Civil War, George Armstrong Custer, being sent out West to battle the Sioux. Custer wants an enemy who fights by the rules as he chases the Indians across the Plains. Custer gets in to some trouble for leaving duty to visit his wife and for his brutal treatment of some deserters. He is suspended for a year but is brought back by President Grant at the recommendations of Generals Sherman and Sheridan to help with the Indian problem. The movie subtlety suggests that the generals wanted to bring in Custer because he would be willing to slaughter the Indians.

Kate Bighead tells the story of the The Battle of Washita River when Lt. Col. Custer's 7th U.S. Cavalry attacked Black Kettle's Southern Cheyenne camp on the Washita River> Black Kettle flew an American flag over his camp and had been told that his people would not be bothered. Custer's orders were to kill all the men and bring back the women and children. At the massacre mostly women and children were killed.

The movie's interesting device of letting the two women tell the story from their point of view really works for me. The Indian case about the invading army and the unfair treatment they received was done presented very effectively. The Americans case was presented for what is was; a policy developed for the economic and political needs of the country. Very well done for a TV movie.