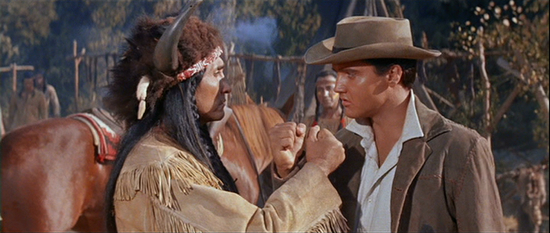 &nbsp&nbsp Set in 1873 Texas, we have Elvis Presley playing Pacer Burton, whose Indian mother is the second wife of Sam Burton. It isn't long until we see some prejudice with the comment of a guest at dinner
Tom Howard: "Whole supper was just great, Mrs. Burton. Of course, like Will and me always say, when it comes to cookin', no one would ever guess you was any different from... well, our ma or anybody else."
A little while later there is an Indian attack on a ranch, and the settlers are massacred. Kiowas then come to the Burton's ranch the next day. Pacer tells the family that the Kiowas have a new chief.
The new chief, Buffalo Horn, comes to the door and talks to Pacer. Pacer tells him that he will talk to him during the daytime.
Some of the settlers are upset that the Burton ranch wasn't attacked, because the wife, Neddy, is Kiowa and Pacer is half Kiowa. A search party comes and asks if the Burton's are with them in the upcoming battle. When one of them calls Neddy a squaw, Pacer's half brother Clint shoots and wounds him. They then stampede the Burton's cattle. The Burton's aren't considered white by the whites and they aren't considered Kiowas by the Kiowa.
Some hunters come through and find Neddy and Pacer at home. They call Pacer "red boy". one of the hunters puts his hands on Neddy and she hits him. Neddy tells them to leave and Pacer gives them a beating before they leave the property. The next day Buffalo Horn and some braves show up. Buffalo Horn wants Pacer to fight win them. He says the Kiowa must fight or they will die. Buffalo Horn thinks having a half white man fight with them will be great magic. Buffalo Horn says if he doesn't fight with them he will kill everyone in the house.
Neddy wants to go back to the Kiowa village to talk to the old chief. pacer, Neddy and Buffalo Horn head back to the camp. As they enter the village, people turn their backs to Neddy. Neddy goes off talk to the old chief, and Pacer talks to the Kiowa men. Neddy's sister and the others ends up telling her she is not Kiowa anymore.
On the way home they are ambushed by a white man and Neddy is shot. Later on Neddy died. Pacer wants revenge. and decides to go join the Kiowa. When Pa Burton goes out for his cattle. he is killed by a Kiowa war party. When the Kiowa attack his brother Clint, Pacer goes and helps him. Pacer ends up having to kill a few Kiowa to save his brother. Pacer takes Clint home, but the Kiowa follow. He then rides off as a decoy so his wounded brother can escape.
Pacer later comes riding in to the ranch, but he is already almost dead.
Pacer Burton: Don't come no closer. I just want to make sure you're all right. Don't try to help me, Clint. I've been killed already... Stubborn about dying.
Clint Burton: Let me get the Doc!
Pacer Burton: Too late. Too late. The only thing to do now is to die.
Clint Burton: Pacer, for God's sake.
Pacer Burton: You live for me, Clint. Maybe some day... somewhere people will understand... folks like us.
Clint Burton: Oh, you'll be all right.
Pacer Burton: Unh-uh. When I was fighting off the other Kiowas... I saw the... flaming star of death. I gotta last long enough to go into the hills and die. I trust you not to follow me, Clint.
Clint Burton: [Pacer rides off] Pacer. Hey, Pacer!
Clint Burton: Pacer!

The movie ends with Pacer riding off in to the hills to die, with the people of the town looking after him.
A good movie, with a plea for racial tolerance and presenting a strong statement on the prejudice facing people of mixed races. Elvis was good in a pretty good movie. The only thing lacking was the presentation of the Kiowa's point of view. There were a couple references to having to fight or die, but overall they were not the focus of the movie.
---


NY Times Review
December 17, 1960
Flaming Star' Opens

A.H. WEILER.
SINCE Elvis Presley previously has been involved in worlds he never made, it shouldn't startle the Paramount's patrons to find him, after his recent Army hitch in "G.I. Blues." again embattled—this time as a half-breed American Indian—in "Flaming Star."

It is surprising, however, that this small, somber view of some of the misunderstanding and bloody strife between settlers and Indians in Texas of the Eighteen Seventies is equally passionate about both. No guitar gala, "Flaming Star" is an unpretentious but sturdy Western that takes the time, the place and the people seriously. Elvis, for the record, is merely one of the principals caught up in the tensions exposed here. Both the author, Clair Huffaker, and Nunnally Johnson, with whom he collaborated on the script, focus is much on his family as they do on the hero. It is a closely knit, loving unit, seemingly integrated with and well liked by the neighbors until some of them are massacred by aroused Kiowas after a birthday party. The Indians are not simply presented as heavies" but also as beleaguered men being ruthlessly deprived, in their view, of their lands.

The hatreds that follow misconceptions are suggested logically. The whites are balefully suspicious of old man Burton who loves and steadfastly stands by his Kiowa wife, his half-breed son and his white son by a previous marriage. The Indians, they eel, give them special consideration and protection. And, when the clashes do occur, it is a double-edged dilemma for the Burton family especially Elvis), who find themselves physically and spiritually caught in the middle. The warfare destroys all not one of the Burtons in an unhappy ending that seems to underline the sadness of the period when the Indian beg to vanish.

Don Siegel's direction workmanlike and delibera except in the massacre sequence which has the element of surprise and shock. All though he is not called on carry a histrionic load, Mr. Presley, thanks to fine makeup and the color cameras, is a passable red youth. He is also allowed to twang the guitar in one cowboy ballad, so the film cannot be listed as a total loss by the rock the rollers.

Elvis does not get the gift. However, he does allow, climactically, that he was romantically inclined toward the white leading lady all along, but deferred in favor of his white half-brother. He sits a horse well and is properly brave and stoic, even in the point where he sees the "flaming star" of death.

As a matter of fact, John McIntire, as the understanding head of the ill-fated clam contributes the film's best portrayal, one that is understated and convincing. Dolores De Rio is the soul of restraint an his quietly longsuffering Indian wife, and Steve Forrest as the white son, is equally subdued but effective as man torn by blood ties and blood shed. Barbara Eden in decorative as the blonde who adores Elvis.

Although it is not electrifying, "Flaming Star" make a neat and satisfying adventure.

The Cast
FLAMING STAR; screen play by Clair Huffaker and Nunnally Johnson; based on a novel by Mr. Huffaker; directed by Don Siegel; produced by David Weisbart for Twentieth Century-Fox. At the Paramount. Running time—101 minutes.

Pacer Burton . . . . . Elvis Presley
Clint Burton . . . . . Steve Forrest
Pa Burton . . . . . John McIntire
Neddy Burton . . . . . Dolores Del Rio
Roslyn Pierce . . . . . Barbara Eden
Buffalo Horn . . . . . Rudolph Acosta
Dred Pierce . . . . . Karl Swenson
Dee Phillips . . . . . Ford Rainey
Angus Pierce . . . . . Richard Jaeckel
Dorothy Howard . . . . . Anne Benton
Will Howard . . . . . Douglas Dick
Tom Howard . . . . . L. Q. Jones
Two Moons . . . . . Perry Lopez
Tute . . . . . Tom Reese
Ben Ford . . . . . Monte Burkhart
Hornsby . . . . . Ted Jacques
Sha Knay . . . . . Marian Goldina
Indian Brave . . . . . Rodd Redwing