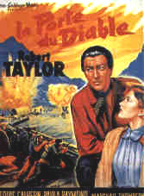 &nbsp&nbsp This movie was one of the first to present the Indians in a positive light (two years after Fort Apache and a few months after Broken Arrow. It was the first Western by director Anthony Mann.

&nbsp&nbsp In this movie, Lance Poole, played by Robert Taylor, a Civil War Congressional Medal of Honor Winner, returns home to find that his land is being stolen by a crooked lawyer and some sheep farmers.

&nbsp&nbsp The movie is a pretty microcosm of what happened to Native Americans at the hand of the settlers and the government.

&nbsp&nbsp The only negative thing I can really say about the movie is the choice of blue eyed Robert Taylor to play the Shoshone. Like Burt Lancaster in Apache it makes it hard to believe in the movie.

&nbsp&nbsp Phil Hardy in his book, The Encyclopedia of Western Movies, said "What makes the film so impressive is [Guy] Trosper's articulate script and Mann's handling of the theme of identity - the major theme of Mann's series of classic Westerns in the fifties - with Taylor caught - literally, his dress alternates between that of Indian and white man - between the conflicting identities and loyalties of Indian and American."

---

&nbsp&nbsp In Richard Slotkin's wonderful book Gunfighter Nation, he says of Devil's Doorway: "MGM's Devil's Doorway, directed by Anthony Mann, was completed first; but its story was so uncompromising in its presentation of White greed and bigotry, that the studio delayed its release until the success of Fox's Broken Arrow indicated that the public was ready to accept it." He goes on to say: "The structural principle of Devil's Doorway is its development of the dialectic between the sad and well-known historical facts of Indian dispossession and the dream-desire for a utopian resolution that is embodied in myth archetypes and conventions of the genre."