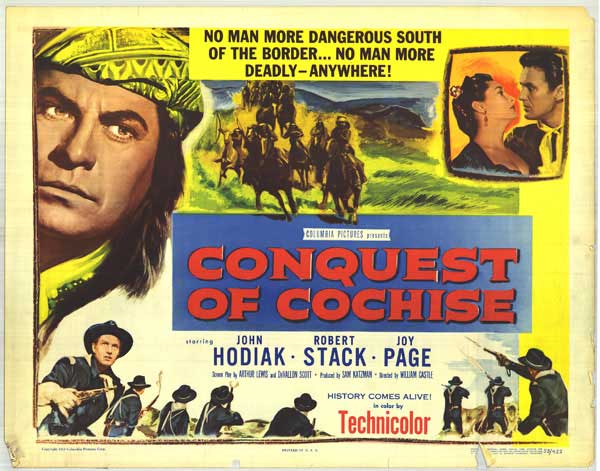 &nbsp&nbsp Major Tom Burke (Robert Stack) is sent to Apache land to try to get the Apaches to make peace. Cochise (John Hodiak) has decided to make peace Cochise and tells the Comanches they have to keep the peace too.
&nbsp&nbsp When the Comanches breaks the peace Cochise and his men help to drive them off (in other movies it is usually Geronimo he is chasing off). Cochise keeps the peace even when his wife is killed. Cochise kidnaps some Mexicans to serve as hostages while he tries to figure out who was responsible for hid wife's death. One of the captives is Consuelo (Joy Page), and Cochise seems to forget about his wife pretty quick.
&nbsp&nbsp Major Burke finds the culprit and it is Consuelo's brother, Felipe. Cochise is going to let Major Burke take Felipe back to stand trial but he tries to kill Cochise again and it killed.
&nbsp&nbsp Cochise goes and asks the Comanches to keep the peace, but they subject him to "three deaths". Boiling steam, getting sliced up with knives and then he is going to be being burnt at the stake. Major Burke and his troops then rise in and save him. In the end Cochise sends Consuelo back to her people.
&nbsp&nbsp Beautifully filmed, but the story is weak and the history is bad. The Apaches certainly wouldn't be telling the Comanches what to do, but Broken Arrow was pretty popular and the writers wanted to use Cochise's name. John Hodiak is another in a long line of white actors who is really miscast as a Native American. It's good to see Joy Page, who played the Bulgarian bride in Casablanca who negotiated with Captain Renault, but she isn't given much to work with here. Robert Stack was pretty good as Major Burke.
&nbsp&nbsp This movie could have been so much better if it had just stuck to the facts.
---
NY Times Review (1953)

Review Summary

Cashing in on the popularity of such pro-Native American films as Broken Arrow, Columbia's resident quickiemeister Sam Katzman came up with Conquest of Cochise. John Hodiak plays the eponymous Apache leader, who at the beginning of the film is seen conducting raids on the U.S.-Mexican border in the company of the Comanches. Eventually realizing that the whites are better armed and equipped than the Indians, Cochise wants to put an end to the raids and smoke the peace pipe, but the Comanches don't see things his way. In films of this nature, there is usually a foredoomed love affair between a white man and an Indian girl. This time, however, Cochise falls in love with Mexican aristocrat Consuelo de Cordova (Joy Page), whom he holds hostage while U.S. cavalry officer Burke (Robert Stack) searches for the killer of Cochise's Indian bride. Director William Castle does a nice job matching stock footage with his newly-shot scenes. ~ Hal Erickson, Rovi